Studio Stories
I work out of my home based studio in a forest in the Pacific Northwest. This is just one of my stories.
3 ceramic pieces that were big conversation starters at my sale - what is it? - what do you use them for?
3 ceramic pieces that were big conversation starters at my sale - what is it? - what do you use them for? is posted in the category
I'm having a sale
Search
Categories
Affiliate links
Some blog posts contain affiliate links to products I use.
More information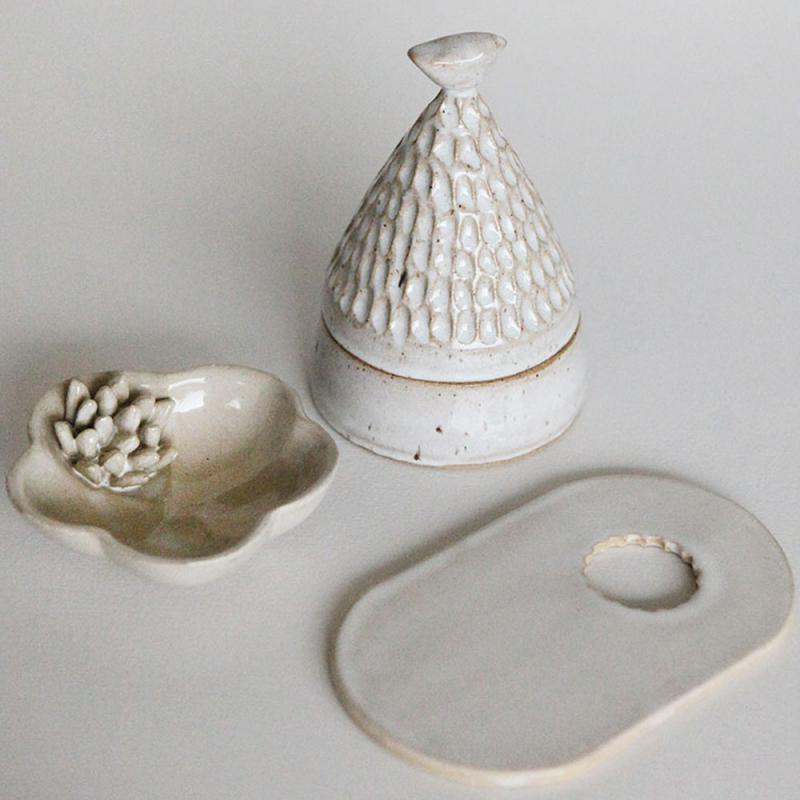 At my recent market, I brought many ceramic pieces to sell. Of those, 3 items really stood out as conversation pieces. Three pieces that people repeatedly picked up and asked questions about. What is it? What do you use it for? and then some fun guesses that you can find out below. Oh and a story of three little girls who knew exactly what one of the items were and bought one each. Let's talk about it.
---
Being a frequent proto-type maker, I sometimes come up with new items that you may not have seen before or that you can not immediately see the use for. And that is ok. Sometimes there may not be a solid good function of an item and it may have just been made for more aesthetic reasons. Which, for me, is a function in its own right.
This first item is one of these examples. I give to you my bird box. What is it you ask? Well it is first a foremost a box with a bird on a roof for a lid. The roof has one of my favorite carving patterns. One you will also find on some of my bowls, lamps and more. The texture and the triangular silhouette of this box is what mostly draws me to it.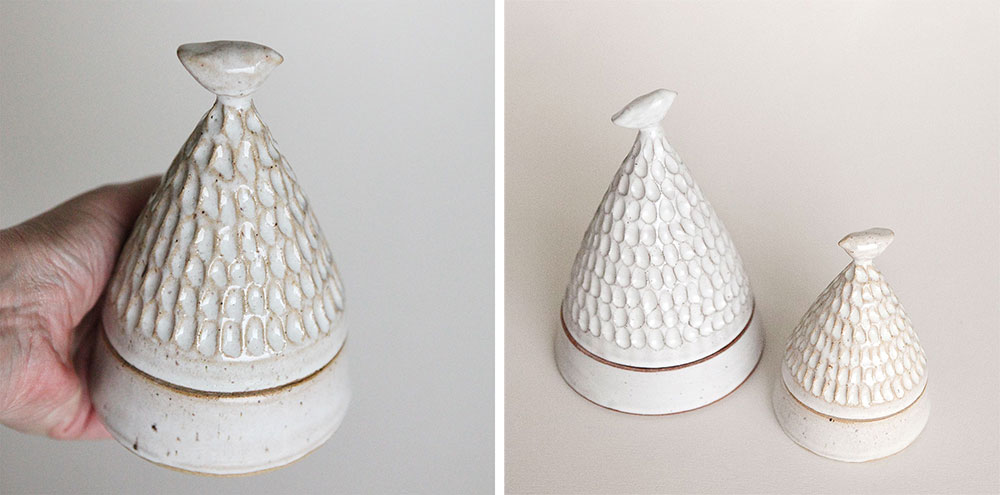 I make them in these two sizes: large and small. The one I am holding in my hand is the small size. Here are three ways that you can use this birdbox.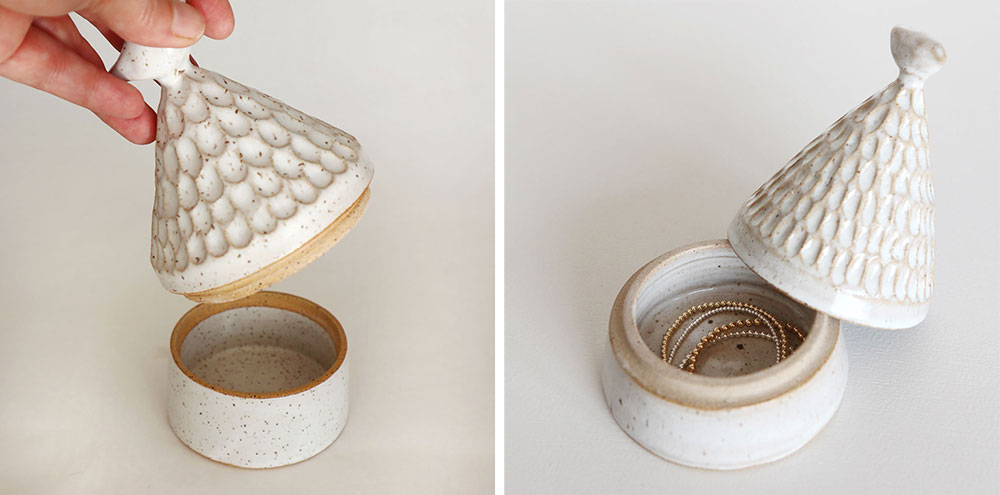 First up is how I use it myself. I just love how sculptural it is and as a recovering box-aholic on Groundhog day 0 - this bird box being exhibit A - I have one sitting on my coffee table with actually just nothing in it as proudly displayed on the left above.
Something a little more exiting, is to use it to coral jewelry as shown on the right image above. Here I have some beautiful handmade bracelets by Tiana Manola, who is a fellow local Burien maker I met at the market. Here is Tiana and some of her beautiful hand forged pieces on one of my ceramic plates.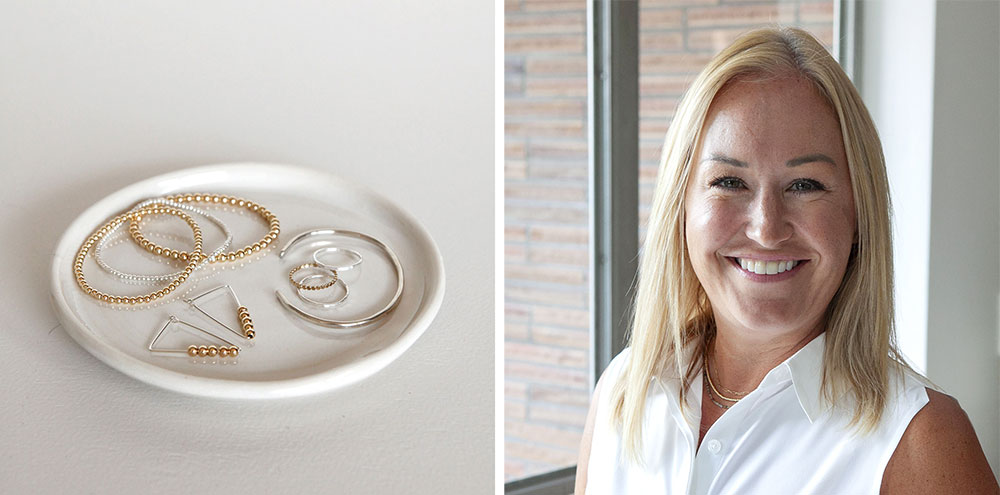 In addition to finding Tiana's beautiful pieces here: Jewelry by Tiana Manola, you can also find her in these local Burien stores:
Paper Delights, Iris & Peony and Howard & Marge.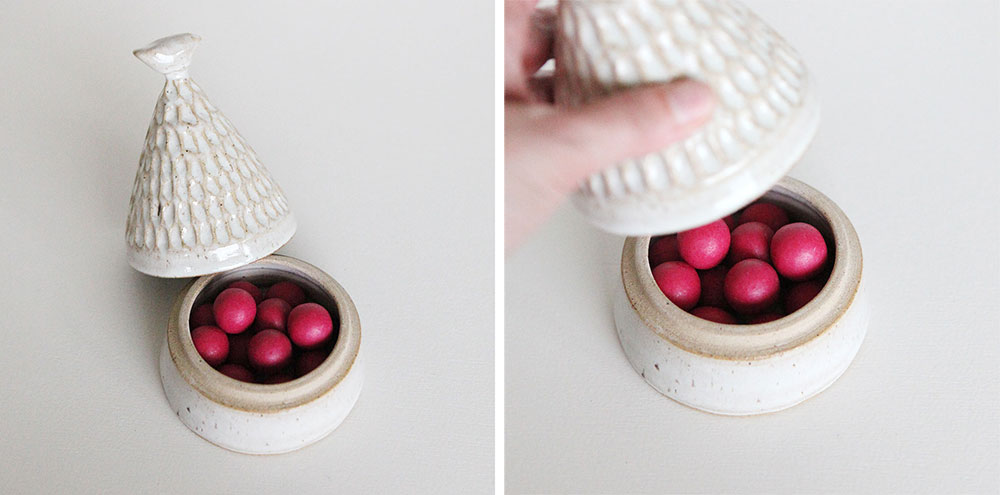 candy, but in yellow - (available in the US)
The third use is as a candy dish. We just got these beautiful Danish raspberry candy gifted as a hostess gift. What a fun surprise it would be to lift the lid and find these inside your birdbox. The perfect pairing if you ask me.
Favorite guess at the market for what this is: Garlic container. While that is certainly a great use, you typically see holes in a garlic container, but don't let that stop you from using it this way. I think that is a marvelous idea.
Next up is our second mystery product. What is it?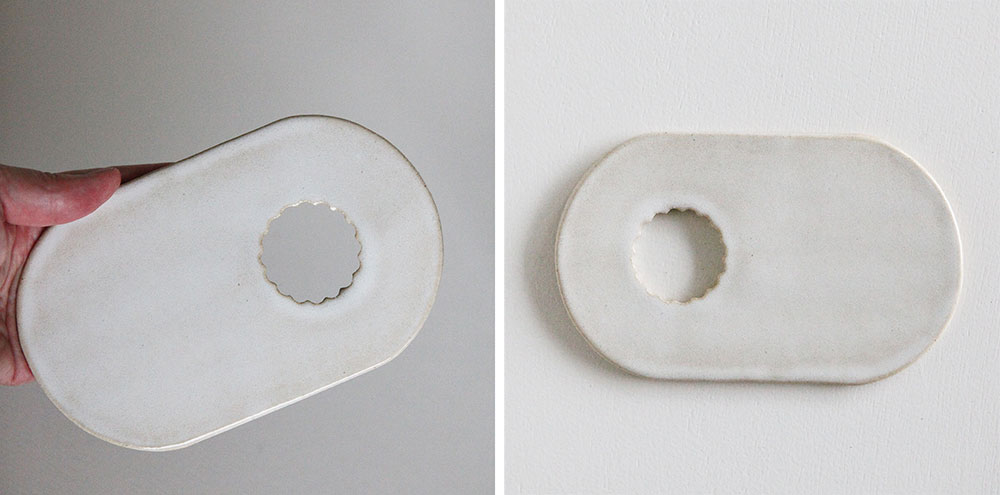 This is a little personalized platter. Watch me now calling it a cheese platter and then show you three ways to use it, none of which is for cheese. That's just how it's gonna be. The hole in these is what really makes it interesting. Again, so much texture in such a small spot. *chef's kiss*
First up: why not use it as a little surface for a cupcake. Is it practical? maybe not, but I can't get over just how darling it is. So if you love to go the extra mile for you snack session, this is just the thing for you. These were the first four proto types I made and going forward I will make these in a bigger size to increase functionality.
The keen observer will notice that I made little name tags out of the hole cut out and you can indeed write on these with a dry erase marker. This is an idea I am going to revisit in upcoming work.
The other two ways to use this mini platter is as styling décor with other things in your kitchen such as shown here with some wooden cutting boards and a ceramic artichoke. You can also use it to layer with one of my match jars next to a candle stick. Add a stylish candle snuffer and you have a pretty vignette for a side table or a shelf.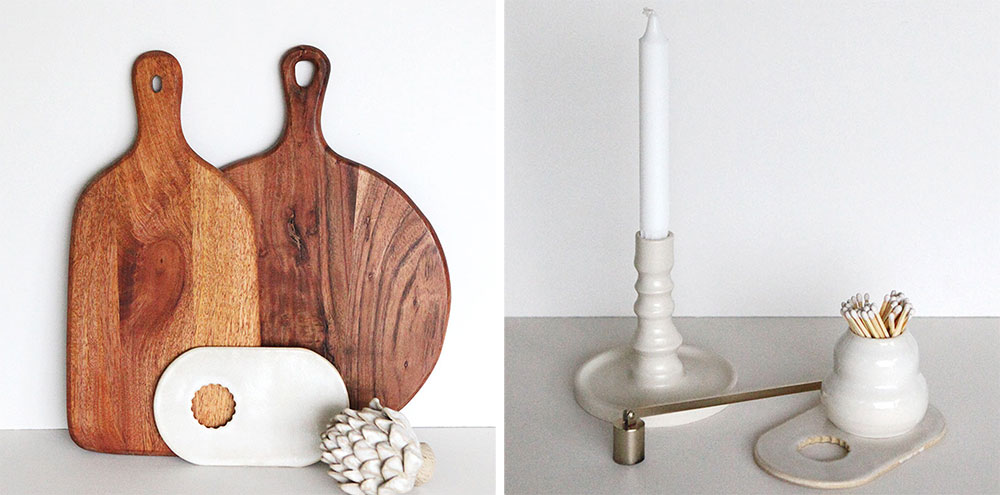 Cutting board set (similar), Candle snuffer (similar), White candle (similar)
The favorite guesses for this item were: to slip over a wine glass for appetizers and bottle opener. I am pretty sure the sizing of the hole would be detrimental to those two uses, but hey I am not one to shoot down new ideas!
The third ceramic conversation piece I had at the market were these guys. What is it? How do you use it? Let's find out.
I call this my succulent dishes. They are not 'for' succulents, but rather that plant looking thing in it made me think of a type of succulent.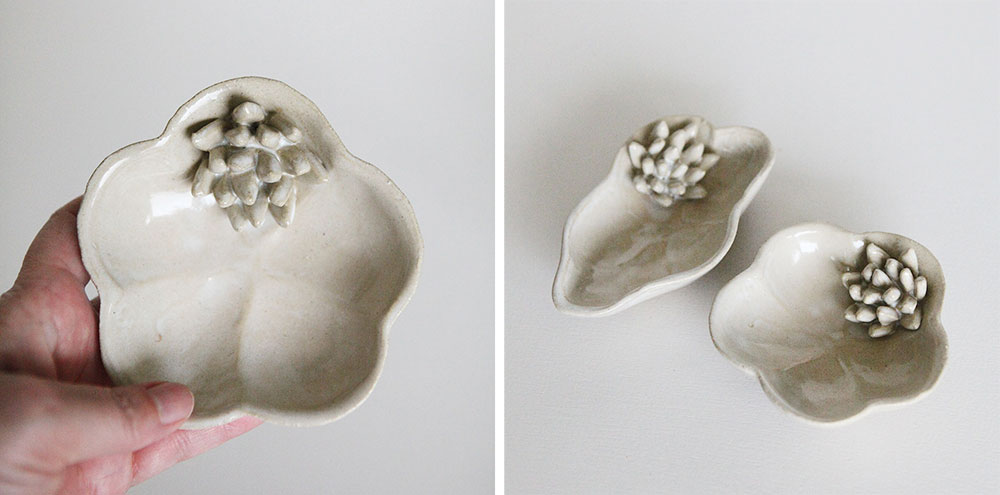 First up, I could not resist again styling it with some of Tiana's beautiful jewelry. Earrings, necklace, cuff and rings. I just love how the rings sit against the succulent. So sweet.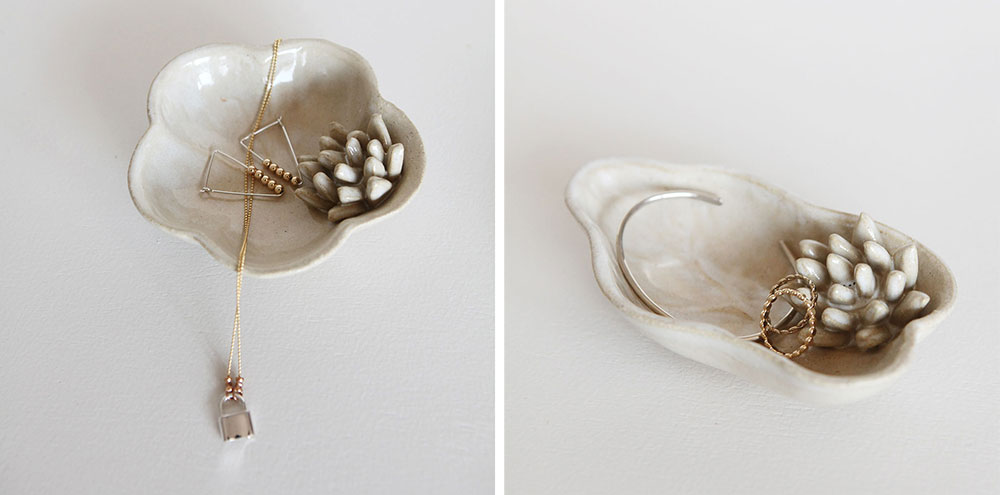 The second use is as a small dish to put some pieces of chocolate on for your afternoon hot beverage. Is that just me? Here I am having a hot chocolate in my first proto typed cup. I am getting ready to make my third reiteration of that cup with improvement in the form and function. I am very close to having a cup design I am very exited about and I can't wait to share that once it is ready.
The third use is as a layer of style for that that single piece of fruit on your kitchen counter. A lime, a plum, a piece of ginger or something else.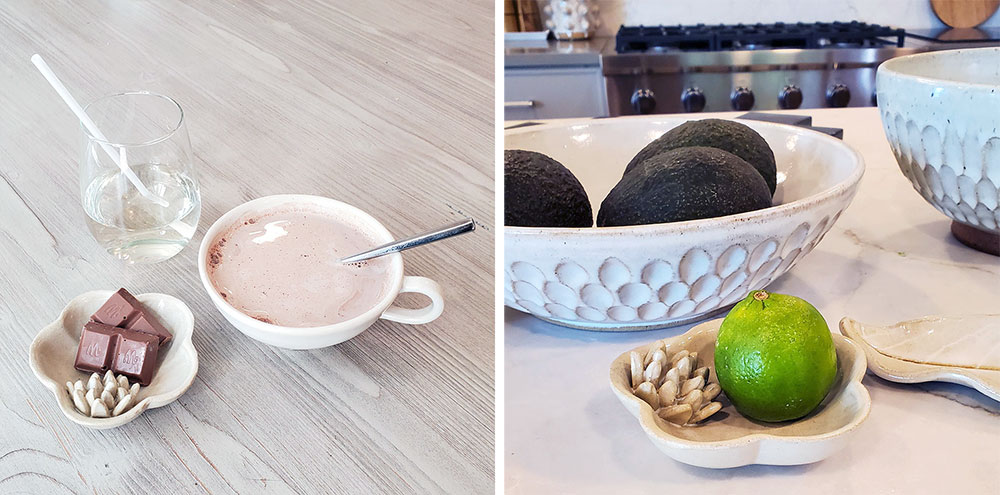 Chocolate My favorite chocolate powder
At the market I had so many questions about this little trinket dish. My favorite guess was: a garlic grater. I think the succulent is too coarse for that, but I love the idea!
You know who did not have any questions about it? Three darling little girls that came to my booth. After thoughtfully looking at each of them, they each picked their favorite one to bring home. That made me so happy and it reminded of when I was that age and how I would also just love a trinket dish for my collections in my room. They were so sweet as they wandered off together with their bag in hand. Love.
Now you know.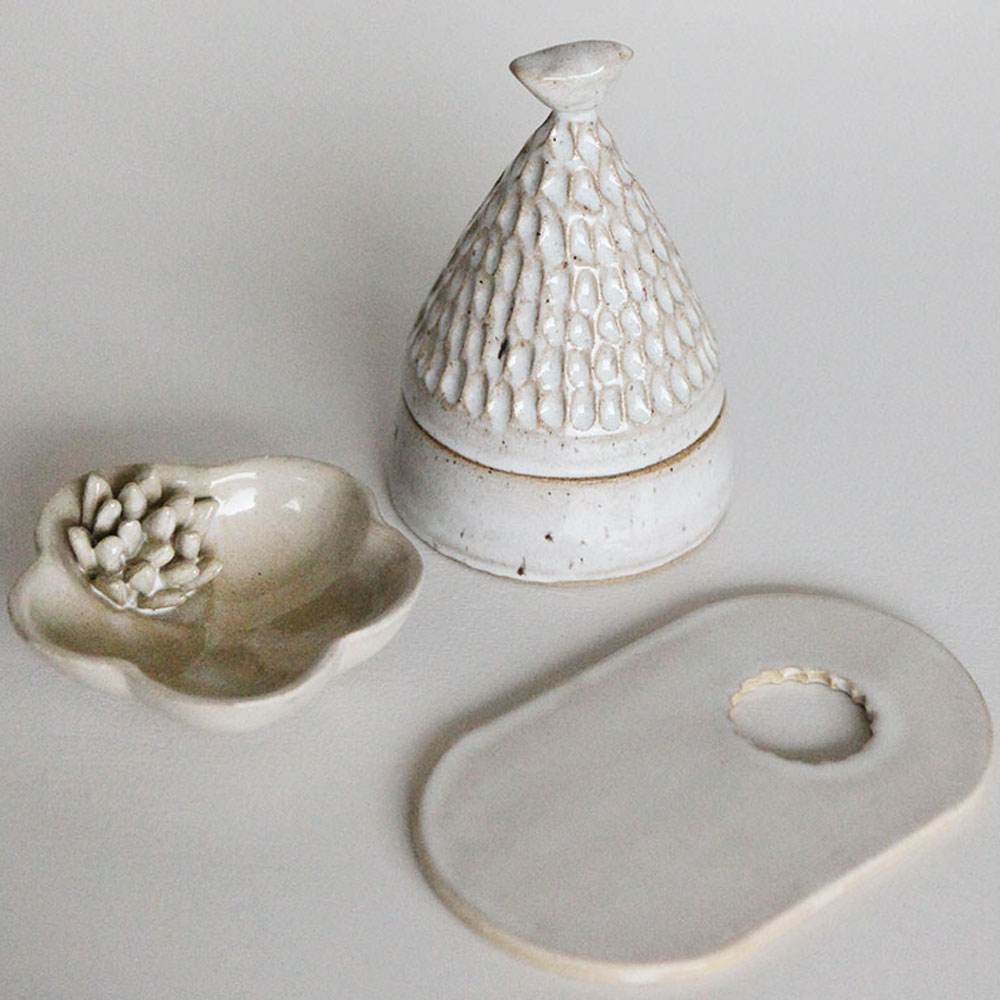 Share
Shop my ceramics store
Shop updates will be announced to my email newsletter subscribers first.
Please subscribe to my newsletter here:
Some blog posts contain affiliate links to products I use.
More information
This article: 3 ceramic pieces that were big conversation starters at my sale - what is it? - what do you use them for? first appeared on http://ahomeforceramics.com.
Search
Categories
Affiliate links
Some blog posts contain affiliate links to products I use.
More information